The Swami Sport golf GPS from Izzo is simple to use, fast and very effective, in other words it does exactly what it says on the tin.  The Swami is nice and compact measuring only 80mm x 60mm (at its widest point) and weighing 59 grams.  Izzo are a golf company that pride themselves on innovation, they invented the dual carry strap for golf bags.  Prior to 1991 golfers had to lump around heavier bags using one strap.  The Swami Sport GPS is yet another fantastic product from Izzo Golf.
The Swami Sport comes in four different colours to choose from, neon green, yellow, orange and grey.   Included with the GPS are a USB charger and a large a caribiner clip so that it can be attached onto your bag.  The Swami Sport is both accurate and affordable, retailing with us, ColeGolf.ie for only €99.
The Swami Sport displays distances to the front, centre and back of the green.  The large 45mm LED screen is easy to see with two colour schemes to choose from.  Distances can be displayed in either metres or yards depending on your preference and can be adjusted in the settings.  The screen also displays the hole number, time and the par.  The Swami Sport does not display hazard information such as bunkers, lakes etc (the Izzo Swami 4000+ does however).
The GPS itself is very simple to operate; there are literally four buttons on the device.  The on/off button, up and down arrow buttons to scroll through the menu options and a select button.  There are no further downloads, updates or subscriptions required, you simply charge it and bring it with you to the course.  You do though need to scroll on to the next hole by pressing the arrow button; it does not automatically recognize the next hole whilst out on the course.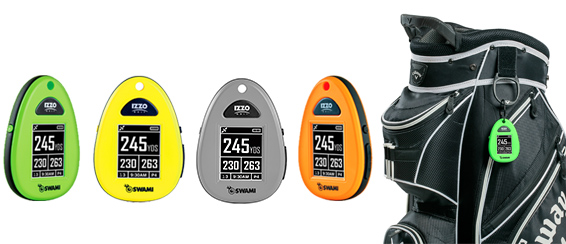 The Swami comes with a 1 year warranty covering any manufacturers' defects or faults.  Like your mobile phone it is advisable to be careful with the LED screen.  Common sense should prevail and attaching it to your bag during a heavy downpour is not advisable.  The GPS has 30,000 courses worldwide pre loaded including all the Irish courses (except Lismore in Waterford – sorry Lismore we do not know why this is the case!)
The GPS has a rechargeable lithium battery which will last for approximately 8 hours once fully charged.  The device comes with a USB charger, plug chargers are inexpensive to purchase and commonly available should you not have a device with a USB socket.
Should you have any questions regarding your GPS we recommend the FAQ page on the Izzo website, detailed here.  Alternatively do not hesitate to contact us and we will be glad to help.
If you are looking for a simple, affordable yet accurate and effective GPS the Swami Sport GPS is highly recommended.  Knowing the exact distance to the front, centre and back of the green eliminates any guess work or calculations based on sprinkler head locations.  This helps you with club selection and in turn promotes faster play.
Author: colegolf
Dan Cole is the owner of Cole Golf a golf store based in the Tougher Business Park in Naas, Co. Kildare. We have a wide selection of golf equipment from all the top brands including golf clubs, golf balls, golf bags, golf shoes, golf sets, accessories and junior golf equipment. You can either purchase in store at our golf shop or via our website at www.ColeGolf.ie
This author has published 4 articles so far.